Lose belly fat faster than ever
Have you ever looked in the mirror and wished that you could make your belly fat vanish before your eyes? Unattractive fat around the stomach is one of the most common body frustrations that my new clients complain about.
No one wants a squishy stomach! Frustrating as it is, losing body fat is a slow and steady process, rather than an instantaneous fix.
However, I do have an extremely effective method for losing belly fat faster than ever, and I'd like to share it with you today…
The Two-Pronged Approach to Rapid Fat Loss. This effective, fat-melting method attacks fat simultaneously on two separate fronts for maximum effectiveness: your sugar intake and your high intensity workouts.
Prong #1: This part of the strategy requires zero extra effort on your part! In fact, all you have to do is STOP doing something that you're alreadu doing! You stop eating harmful, refined sugar, in all its forms. This means no sodas, no desserts, no packaged snacks, no candy, no mocha lattes, NO SUGAR AT ALL!
Stop and consider the food that you eat in an average day. Focus primarily on the items you habitually eat that contain sugar. It may be shocking to find out how much refined sugar you actually consume. Eating sugar is the fastest way to gain weight, so it makes sense that eliminating sugar is the smartest way to start your rapid fat loss.
Do not, however, starve yourself of healthy calories. Fill your diet with lean meats, vegetables, nuts and seeds as you cut out the refined sugar. Keep your metabolism high by fueling up on high protein, high fiber, low carb, and zero sugar foods whenever hunger strikes.
Prong #2: Here's the part of the strategy that requires some effort, but trust me when I say it's worth it. Crank up the intensity of your workouts to a whole new level.
Most people take exercise on with the slow and steady mentality – moving, pushing and pulling as little as possible while still "getting the job done". I've got some news for you…if you still have belly fat to lose then the job wasn't getting done.
If you can comfortably hold a conversation, hardly break a sweat or feel the same when it's over as you did when it began, then you're simply not pushing yourself hard enough while you exercise.
Increasing the intensity of your workouts requires focused intent. You must go into the session with the goal of pushing your body to the limit. Remember, it's a contained timeframe that will be over shortly, so bear down and deal with the discomfort. With practice you will learn to embrace the burn.
The safest and most effective way to crank up the intensity and effectiveness of your exercise time is to work with a qualified fitness professional, such as myself. I would love to hear from you!
Call or email me today and together we will get you started on your fastest fat loss ever!
Flat Zucchini Noodles with Parm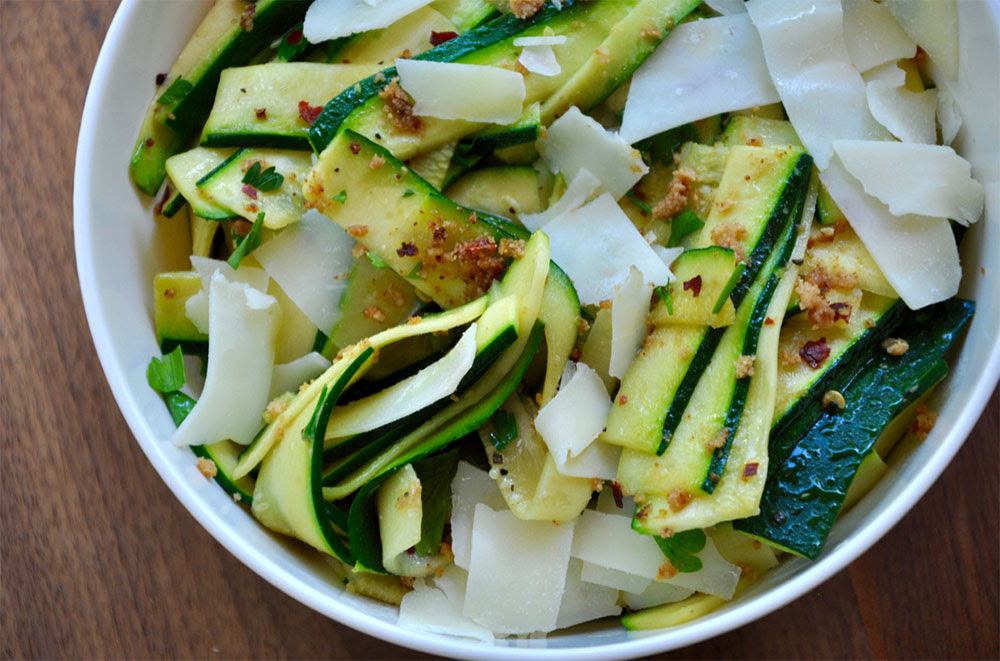 Here's a guilt-free pasta recipe for you! You won't need a spiral slicer for this one, simply use a regular veggie peeler – like the kind you would use to peel the skin from a potato – to create long, flat zucchini noodles. This recipe has a scrumptious, nutty flavor that will make you forget all about traditional noodles. Feel free to serve with some sliced chicken breast, sliced hard-boiled eggs or steak for added protein. Enjoy!
What you need
Serves 4
1 teaspoon coconut oil
Pinch of salt
1 Tablespoon almond flour
4 large zucchinis, peeled with a veggie peeler
2 Tablespoons extra-virgin olive oil
2 cloves garlic, minced
½ teaspoon red pepper flakes (or more to taste)
1 Tablespoon minced parsley
¼ teaspoon black pepper
Instructions
1. Heat a large skillet over medium-high heat, about two minutes. Add the coconut oil, and once it's melted, add the almond flour and a pinch of salt.
2. Stir often with a wooden spoon, until it's toasty brown, about two minutes. Remove crumbs from the pan and save for garnish.
3. In the same skillet, add the peeled zucchini noodles. Sauté them until just tender, about one to two minutes. Turn heat to low.
4. In a new pan on low heat, combine olive oil, garlic, and red pepper flakes, stirring with a spoon until fragrant, about 20 seconds.
5. Transfer the zucchini noodles to garlic and oil mixture. Toss and stir until they're coated.
6. Turn off the heat and add parsley, salt, and black pepper. Sprinkle with almond flour crumbs before serving. Enjoy!
Nutrition
165 calories, 12g fat, 72mg sodium, 13g carbohydrate, 5g fiber, and 6g protein.
Increase Protein for Accelerated Fat Burn
Want even more fat loss? Studies continue to prove that diets with high in protein encourage more fat loss than diets high in carbohydrates. Each of your snacks and meals should be built around a centerpiece of high quality, lean protein.